Choose Your Interest
As Arizona, Colorado, New Mexico, and Utah share a common border, so they share the appreciation for the arts and humanities. This page provides a list of museums that are part of the Four Corners Museum Network.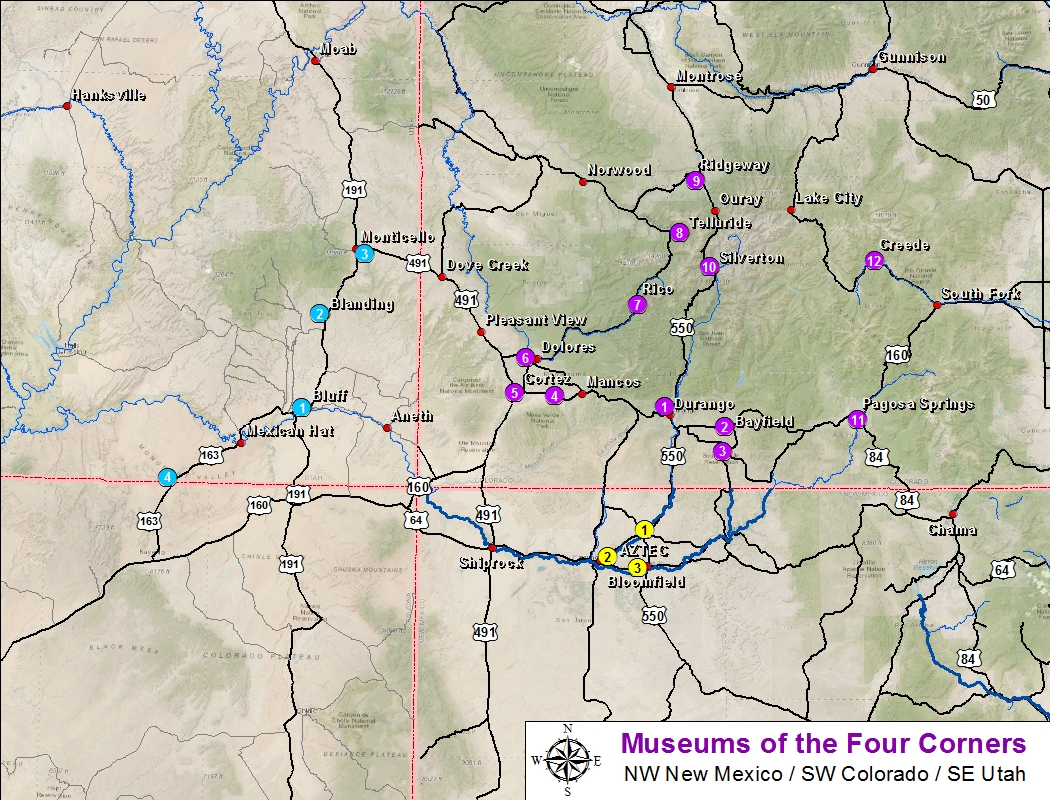 Northwest New Mexico

Aztec Museum
and Pioneer Village
Historic Downtown Aztec
125 N. Main Ave.
Aztec, NM 87410
505-334-9829

Aztec Museum brings history alive for residents of the Four Corners and tourists from around the world. The Pioneer Village excites almost everybody's imagination as they step into Aztec's first jail, doctor's office, the one-room schoolhouse, or blacksmith shop.

---


Aztec Ruins National Monument & Chaco Culture National Historical Park
725 Ruins Road
Aztec, NM 87410
(505) 334-6174
➠ Google Map

Aztec Ruins National Monument and Chaco Culture National Historical Park are UNESCO World Heritage Sites protecting and interpreting ancient Pucbloan structures.

---


E3 Children's Museum
302 N. Orchard Ave.
Farmington, NM 87401
(505) 599-1425
➠ Google Map (15 miles)

E3 Children's Museum & Science Center provides children with hands-on, interactive exhibits.

---


Farmington Museum
Gateway Park
3041 East Main St,
Farmington, NM 87402
(505) 599-1174
➠ Google Map (12 miles)

Experience a wide variety of exhibits relating to the diverse history ot the area's cultures, traveling exhibits, and art shows. Lecture series, performances, workshops, and special demonstrations are offered year-round.

---


Salmon Ruins
6131 US Hwy 64
Bloomfield, NM 87413
(505) 632-2013
➠ Google Map (13 miles)

Salmon Ruins is an 11th century pueblo ruin related to the Chaco Culture group. In addition to the puebloan ruins is Salmon Ruins Museum, Heritage Park, and Pioneer Homestead. The Salmon Ruins Museum offers a variety of exhibits featuring the best of artifacts from our excavation collections. The Heritage Park offers architectural replicas of Tipis and Hogans, a Wikiup and Pithouse, and a Trading Post and Sweatlodge for your enjoyment. The Pioneer Homestead was built by George Salmon in the early 1890s.

---


San Juan County Historical Society
201 N. Main Avenue
Aztec, NM
(5052) 334-7136
➠ Google Map

San Juan County Historical Society was created in 1988 and serves to collect and preserve historical documents pertaining to San Juan County for future generations.
Southwest Colorado

Animas Museum


3065 W 2nd Ave.
Durango, CO 81301
(970) 259-2402
➠ Google Map (38 miles)

The Museum offers a variety of exhibits and programs for all ages. Our mission is to keep La Plata County history and culture alive for present and future generations.

---


Canyons of the Ancients


Visitor Center and Museum
27501 Hwy 184
Dolores, CO 81323
(970) 882-5600
➠ Google Map (80 miles)

The Canyons of the Ancients Museum (formerly Anasazi Heritage Center) is a museum of the Ancestral Puebloan Culture and other Native cultures in the Four Corners region. The museum features permanent exhibits on archeology, local history and Native American cultures.

---


Center of Southwest Studies


1000 Rim Drive
Durango, CO 81301
(970) 247-7456
➠ Google Map (38 miles)

The Center of Southwest Studies at Fort Lewis College connects individuals and communities with opportunities to explore, study, and experience the Southwest's dynamic heritage.

---


Cortez Cultural Center


25 N Market St
Cortez, CO 81321
(970) 565-1151
➠ Google Map (78 miles)

The Cortez Cultural Center prides itself as the Home to the Creative Spirit, Cultural Heritage and Natural Wonders of the Four Corners. Native American Dances, Western Heritage shows, Museum, Gift Shop and Artist Gallery.

---


Creede Underground Mining Museum
503 Forest Service Rd #9
Creede, CO 81130
(719) 658-0811
➠ Google Map (150 miles)

Blasted out of solid rock cliff by three Creede miners, construction of the museum began in 1990. The miners and volunteers created 600 feet of drift with 22 displays and a gift shop.

---




Crow Canyon Archaeological Center
23390 CR K
Cortez, CO 81321
(800) 422-8975
➠ Google Map (82 miles)

Tour the Southwest with archaoologlsts and American Indian scholars - or take part in hands-on archaeology fieldwork and lab programs for schoolchildren, teens, and adults.

---




Durango Arts Center
802 E. 2nd Ave.
Durango, CO 81301
(970) 259-2606
➠ Google Map (36 miles)

The Durango Arts Center Is a hub for community arts & culture. DAC hosts year-round line art exhibits freely accessible to the public; produces a live theatre season of dramatic and family productions; serves ages 4+ in visual and performing art workshops; and coordinates the Durango Autumn Arts Festival every September.

---




Fred Harman Art Museum
85 Harman Park Dr.
Pagosa Springs, CO 81147
(970) 731-5785
➠ Google Map (84 miles)

Fred Harman, was one of the country's foremost painters of the American West. He also is the world-celebrated creator of the cartoon strip, "Red Ryder and Little Beaver." The museum exhibits numerous Fred Harman paintings, Red Ryder and Little Beaver comic strips, rodeo, movie and other western memorabilia.

---


Galloping Goose Historical Society


420 Central Ave
Dolores, CO 81323
(970) 882-7082
➠ Google Map (78 miles)

The Galloping Goose Historical Society's mission is to preserve the history of the Rio Grande Soulhern Railroad. This includes restoring and operating RGS Galloping Goose No. 5 and a museum located in a replica of the RGS Dolores Depot.

---


Mesa Verde National Park


P.O. Box8
Mesa Verde, CO 81330
(970) 529-4465
➠ Google Map (85 miles)

Mesa Verde offers a spectacular look into the lives of the Ancestral Pueblo people who lived here for over 700 years. The park preserves nearly 5,000 archaeological sites, including 600 cliff dwellings.

---


Ouray County Ranch History Museum


321 Sherman St.
Ridgway, CO 81432
(970) 316-1085
➠ Google Map (117 miles)

The Ouray County Ranching History Museum helps to preserve and protect the area's ranching history. The museum exhibits tell the story of ranch and farm life in Ouray County from the 1880s through the present time.

---


Pine River Valley Heritage Society


11 West Mill Street
Bayfield, CO 81122
(970) 884-7636
➠ Google Map (45 miles)

Our mission is to colloct, preserve, protect and interpret the history and heritage of the pine river valley.

---


Powerhouse Science Center


1333 Camino Del Rio
Durango, CO 81301
(970) 259-9234
➠ Google Map (36 miles)

The Powerhouse Science Center is a hands-on science museum providing informal learning opportunities through exhibits and programs for kids and adults throughout the southwest region.

---


Rico Museum


15 S. Glasgow Ave.
Rico, CO 81332
(970) 967-2103
➠ Google Map (115 miles)

The Rico Museum, establlshed in 2007, by the Rico Historical Society features the glamorous mining and railroad history of the area. The rugged grandeur of it's setting in the San Juan Mountains is unsurpassed.

---

San Juan County Historical Society Mining Heritage Center
PO Box 154
Courthouse Square
Silverton, CO 81433
(970) 387-5609
➠ Google Map (85 miles)

The San Juan County Historical Society (SJCHS) was established in 1964 for preserving the history of San Juan County. The Mining Heritage Center and 1902 County Jail Museum offers an extensive glimpse into the past of Silverton during the boom of the mining industry.

---


Southern Ute Museum


503 Ouray Drive
Ignacio, CO 81137
(970) 563-9583

➠ Google Map (37 miles) Established in 1971 to preserve and promote Ute culture which honors and recognizes Colorado's longest continuing residents through symbolic architecture and seasonal relevance.

---


Telluride Historical Museum


201 W Gregory Ave
Telluride, CO 81435
(970) 728-3344
➠ Google Map (143 miles)

A Smithsonian Affiliate and part of a National Historic Landmark District, the Telluride Historical Museum showcases tho region's Ute heritage, mining history, and rebirth into a ski and festival town.
Southeast Utah

Bluff Fort
550 East Black Locust
Bluff, UT 84512
(435) 672-9995
➠ Google Map (123 miles)

The original Bluff Fort has been rebuilt and lovingly restored through the efforts of the Hole in the Rock Foundation and is open to visitors free of charge. One can learn more about why the pioneers came to Bluff and their arduous journey over the Hole-in-the Rock trail.

---


Canyon Country Discovery Center
1117 N. Main St.
Monticello, UT 84535
(435) 587-2156
➠ Google Map (137 miles)

Canyon Country Discovery Center. home of the Four Corners School of Outdoor Education, provides lifelong loaming experiences through educational programs, hands-on exhibits, and adventures into the canyons, mountains, and rivers of the Colorado Plateau.

---


Dinosaur Musem
754 S 200 W
Blanding, UT 84511
(435) 678-3454
Google Map (142 miles)

The Dinosaur Museum exhibits a complete history of the world of dinosaurs. Skeletons, fossilized skin, eggs, footprints, state-of-the-art graphics, and beautifully realistic sculptures present the dinosaurs from the Four Corners region and throughout the globe.

---


Edge of the Cedars
660 W 400 N
Blanding, UT 84511
(435) 678-2238
➠ Google Map (143 miles)

Edge of the Cedars State Park includes an ancestral Puebloan ruin and a modern museum that is the regional archaeological repository for southeast Utah. The museum displays an excellent collection of pottery and other exceptional ancient Native American artifacts.

---


Goulding's Trading Post Museum
1000 Gouldings Trading Post Rd
Oljato-Monument Valley, UT 84536
(435) 727-3231
Google Map (167 miles)

Goulding's Trading Post is a lodge, trading post, and museum located just north of the Arizona-Utah border, adjacent to the Navajo Tribal Park in Monument Valley. Opened in 1989, the museum is both a showcase of varied artifacts and a glimpse into a bygone era.