Choose Your Interest
» Museums
As Arizona, Colorado, New Mexico, and Utah share a common border, so they share the appreciation for the arts and humanities. This page provides a list of museums that are part of the Four Corners Museum Network.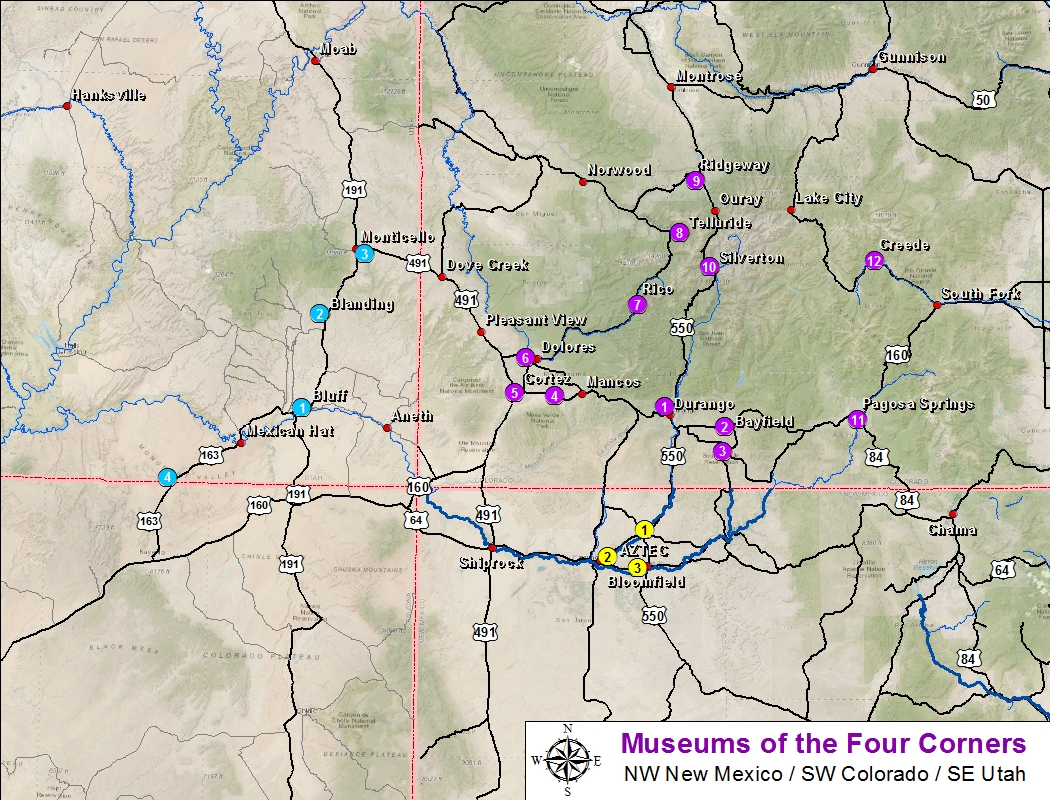 Local

Aztec Museum and Pioneer Village
Historic Downtown Aztec
125 N. Main Ave.
Aztec, NM 87410
505-334-9829
➠ More Info...
Aztec Museum brings history alive for residents of the Four Corners and tourists from around the world. The Pioneer Village excites almost everybody's imagination as they step into Aztec's first jail, doctor's office, the one-room schoolhouse, or blacksmith shop.

---


Aztec Ruins National Monument & Chaco Culture National Historical Park
725 Ruins Road
Aztec, NM 87410
(505) 334-6174
➠ More Info...
➠ Google Map
Aztec Ruins National Monument and Chaco Culture National Historical Park are UNESCO World Heritage Sites protecting and interpreting ancient Pucbloan structures.

---


E3 Children's Museum
302 N. Orchard Ave.
Farmington, NM 87401
(505) 599-1425
➠ www.fmtn.org
➠ Google Map (15 miles)

---


Farmington Museum
Gateway Park
3041 East Main St,
Farmington, NM 87402
(505) 599-1174
➠ www.farmingtonmuseum.org
➠ Google Map (12 miles)
Experience a wide variety of exhibits relating to the diverse history ot the area's cultures, traveling exhibits, and art shows. Lecture series, performances, workshops, and special demonstrations are offered year-round.

---


Salmon Ruins
6131 US-64
Bloomfield, NM 87413
(505) 632-2013
➠ More Info...
➠ Google Map (13 miles)

Four Corners Area

Animas Museum
3065 W 2nd Ave.
Durango, CO 81301
(970) 259-2402
➠ www.animasmuseum.org
➠ Google Map (38 miles)
The Museum offers a variety of exhibits and programs for all ages. Our mission is to keep La Plata County history and culture alive for present and future generations.

---


Canyons of the Ancients Visitor Center and Museum
27501 Hwy 184
Dolores, CO 81323
(970) 882-5600
➠ More Info...
➠ Google Map (80 miles)
The Canyons of the Ancients Museum (formerly Anasazi Heritage Center) is a museum of the Ancestral Puebloan Culture and other Native cultures in the Four Corners region. The museum features permanent exhibits on archeology, local history and Native American cultures.

---


Center of Southwest Studies
1000 Rim Drive
Durango, CO 81301
(970) 247-7456
➠ swcenter.fortlewis.edu
➠ Google Map (38 miles)
The Center of Southwest Studies at Fort Lewis College connects individuals and communities with opportunities to explore, study, and experience the Southwest's dynamic heritage.

---


Cortez Cultural Center
25 N Market St
Cortez, CO 81321
(970) 565-1151
➠ cortezculturalcenter.org
➠ Google Map (78 miles)
The Cortez Cultural Center prides itself as the Home to the Creative Spirit, Cultural Heritage and Natural Wonders of the Four Corners. Native American Dances, Western Heritage shows, Museum, Gift Shop and Artist Gallery.

---


Crow Canyon Archaeological Center
23390 CR K
Cortez, CO 81321
(800) 422-8975
➠ www.crowcanyon.org
➠ Google Map (82 miles)
Tour the Southwest with archaoologlsts and American Indian scholars - or take part in hands-on archaeology fieldwork and lab programs for schoolchildren, teens, and adults.

---


Edge of the Cedars
660 W 400 N
Blanding, UT 84511
(435) 678-2238
➠ More Info...
➠ Google Map (143 miles)

---


Galloping Goose Historical Society
420 Central Ave
Dolores, CO 81323
(970) 882-7082
➠ gallopinggoose5.com
➠ Google Map (78 miles)
The Galloping Goose Historical Society's mission is to preserve the history of the Rio Grande Soulhern Railroad. This includes restoring and operating RGS Galloping Goose No. 5 and a museum located in a replica of the RGS Dolores Depot.

---


Mesa Verde National Park
P.O. Box8
Mesa Verde, CO 81330
(970) 529-4465
➠ More Info...
➠ Google Map (85 miles)
Mesa Verde offers a spectacular look into the lives of the Ancestral Pueblo people who lived here for over 700 years. The park preserves nearly 5,000 archaeological sites, including 600 cliff dwellings.

---


Pine River Valley Heritage Society
11 West Mill Street
Bayfield, CO 81122
(970) 884-7636
➠ pineriverheritage.org
➠ Google Map (45 miles)
Our mission is to colloct, preserve, protect and interpret the history and heritage of the pine river valley.

---


Powerhouse Science Center
1333 Camino Del Rio
Durango, CO 81301
(970) 259-9234
➠ powsci.org
➠ Google Map (36 miles)
The Powerhouse Science Center is a hands-on science museum providing informal learning opportunities through exhibits and programs for kids and adults throughout the southwest region.

---


Rico Museum
15 S. Glasgow Ave.
Rico, CO 81332
(970) 967-2103
ricocolorado.org
➠ Google Map (115 miles)
The Rico Museum, establlshed in 2007, by the Rico Historical Society features the glamorous mining and railroad history of the area. The rugged grandeur of it's setting in the San Juan Mountains is unsurpassed.

---


Southern Ute Museum
503 Ouray Drive
Ignacio, CO 81137
(970) 563-9583
➠ www.succm.org
➠ Google Map (37 miles)

---


Telluride Historical Museum
201 W Gregory Ave
Telluride, CO 81435
(970) 728-3344
➠ More Info...
➠ Google Map (143 miles)
A Smithsonian Affiliate and part of a National Historic Landmark District, the Telluride Historical Museum showcases tho region's Ute heritage, mining history, and rebirth into a ski and festival town.