Hill Road Pueblito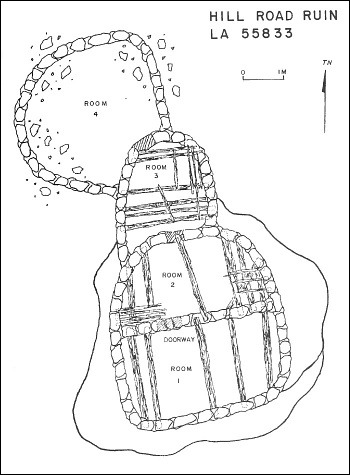 Situated on a boulder outcrop overlooking Carrizo Canyon to the north, this site consists of a pueblito with four rooms and a possible hogan. There is evidence that the pueblito had been constructed in three episodes. Rooms 1 and 2 had been initially constructed and single-story. Room 3 attached to the north side of Rooms 1 and 2 was a two-story structure and the second episode of construction. The roofs to Rooms 1, 2, and 3 are still partially intact. Room 4 was the third episode of construction and is attached to the north side of Room 3. This room is represented by a rubble mound (Powers and Johnson 1987).
Ceramic Assemblage
: Currently only Dinetah Gray ceramics have been documented.
Tree-Ring Analysis
: Some 23 samples have been collected from the site of which pinyon, juniper, Douglas-fir and ponderosa pine are present. All of the samples had evidence of metal ax tool marks. Dates obtained indicate that Rooms 1 and 2 were built in 1738 and Room 3 was added in 1741. Room 4 is inconclusive but it had to have been constructed after 1741 (Towner 2003).
Land Owner:
Bureau of Land Management
Site Elevation:
6450 ft / 1966 m
Hiking Difficulty:
Easy =
Someone in fair hiking condition;
Distance less than 200 feet;
Elevation gain less than 50 feet.
References:
Powers, Margaret A. and Byron P. Johnson 1987
Defensive Sites of Dinetah. New Mexico Bureau of Land Management Cultural Resources Series No. 2, 1987. U.S. Dept of the Interior, Bureau of Land Management, Albuquerque District.
Towner, Ronald H. 2003
Defending the Dinetah: Pueblitos in the Ancestral Navajo Heartland. The University of Utah Press, Salt Lake City, Utah.
Other Pueblitos
➠ Hill Road Pueblito
State Land Permit Required:
Report Vandalism
Report any vandalism to the Bureau of Land Management hot line at (505) 564-7600.
For in progress incidents, request a BLM Ranger through Non-Emergency Dispatch (505) 334-6622.