Hummingbird House Pueblito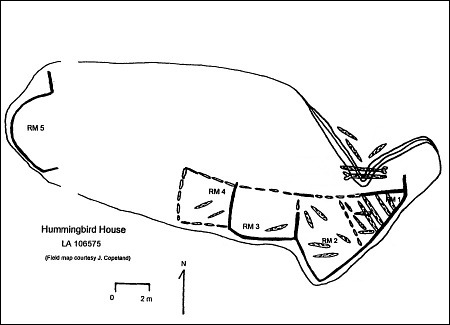 This pueblito is situated on a sandstone outcrop which overlooks a tributary of Rincon Largo. The site includes a four room masonry pueblito (Rooms 1-4) atop the outcrop with one circular structure (Room 5) located at the west of the outcrop (Towner 1997).
Ceramic Assemblage
: Ceramics observed during tree-ring collection investigations included Dinetah Gray and Gobernador Polychrome (Towner 1997).
Tree-ring Analysis
: Forty-four tree-ring samples have been collected from the pueblito. Eleven of the samples were duplicates. Wood species were dominated by pinyon with seven occurrences of Douglas-fir. Metal ax use was noted on 14 of the samples. The tree-ring dates indicate that the pueblito was constructed in 1745 (Towner 1997).
Land Owner:
Bureau of Land Management
Site Elevation:
6869 ft / 2093 m
Hiking Difficulty:
Moderate =
Someone in good hiking condition;
Distance about 0.8 mile one-way;
Elevation gain less than 50 feet.
References:
Towner, Ronald H. 1997
The Dendrochronology of the Navajo Pueblitos of Dinetah, PhD dissertation, University of Arizona.
Other Pueblitos
➠ Hummingbird House Pueblito
State Land Permit Required:
Report Vandalism
Report any vandalism to the Bureau of Land Management hot line at (505) 564-7600.
For in progress incidents, request a BLM Ranger through Non-Emergency Dispatch (505) 334-6622.