Hooded Fireplace Pueblito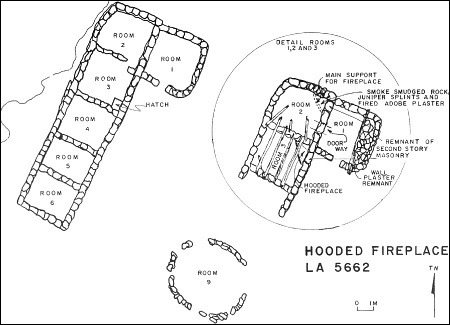 Located on a low knoll in the eastern portion of Superior Mesa, this pueblito is not situated defensively like most pueblitos. This pueblito is larger than most and had at least six ground floors with at least three having evidence for second-story floors. In addition, there are two large stone circles which may have functions as hogan foundations (Powers and Johnson 1987).
The site is named for a well preserved hooded fire place in the room still roofed. The fire place is an architectural feature brought into the southwest by Spanish colonists and presumably introduced into the Navajo area by pueblo refugees from the revolt of 1680. The site was stabilized by the BLM in 1975 (BLM site plaque).
Ceramic Assemblage
: Dinetah Gray and Gobernador Polychrome comprises majority of the ceramics noted on the site. Small amounts of Puname (Zia Pueblo), Tewa (Northern Rio Grande), and Ako (Acoma Pueblo) Polychrome ceramics have been documented.
Tree-ring Analysis
: Ten samples were collected from the pueblito. Pinyon seems to dominate the wood species, however this could be simply sample bias. One sample was identified as cottonwood. Analysis of the dates suggests that the pueblito was likely built in one episode in 1723 (Towner 2003).
Land Owner:
Bureau of Land Management
Site Elevation:
6563 ft / 2000 m
Hiking Difficulty:
Easy =
Someone in fair hiking condition;
Distance less than 200 feet;
Elevation gain less than 50 feet.
References:
Powers, Margaret A. and Byron P. Johnson 1987
Defensive Sites of Dinetah. New Mexico Bureau of Land Management Cultural Resources Series No. 2, 1987. U.S. Dept of the Interior, Bureau of Land Management, Albuquerque District.
Towner, Ronald H. 2003
Defending the Dinetah: Pueblitos in the Ancestral Navajo Heartland. The University of Utah Press, Salt Lake City, Utah.
Other Pueblitos
➠ Hooded Fireplace Pueblito
State Land Permit Required:
Report Vandalism
Report any vandalism to the Bureau of Land Management hot line at (505) 564-7600.
For in progress incidents, request a BLM Ranger through Non-Emergency Dispatch (505) 334-6622.