Crow (Cuerva) Canyon Pueblito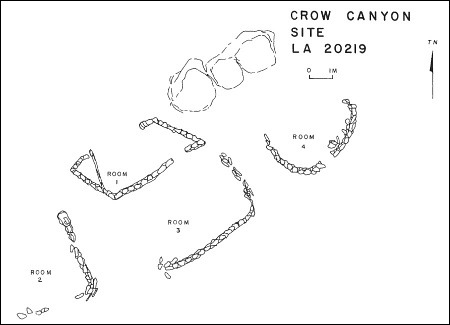 The Crow Canyon Pueblito and petroglyphs are within the Crow Canyon National Register District, listed on the Register in 1974. The Crow Canyon Pueblito consists of a five-room pueblito, an additional room atop a large boulder, the remains of eight forked-pole hogans, two sweat lodges and several petroglyph panels. Three cliff-edge masonry grain storage structures were also found at the location (Powers & Johnson 1987). In addition, the canyon contains several small rock structures likely used for storage of grainary.
Ceramic Assemblage
: The ceramics are dominated by Dinetah Gray and Gobernador Polychrome. Several sherds of Acoma Red and Jemez Black-on-white were documented in the vicinity of the hogans.
Tree-ring Analysis
: Nine samples were collected from the site. Wood species included juniper and pinyon. Analysis of the tree-rings samples proved to be inconclusive in terms of construction date, at best the pueblito was in use around 1723 (Towner 1997).
Petroglyphs
: The Crow Canyon Petroglyphs are the best-known collection of 16th-18th century Navajo petroglyphs (carved rock art) in the American Southwest. In addition, earlier Ancestral Puebloan images can also be found among the Navajo rock art in Crow Canyon. Hundreds of images of animals, humans, supernatural beings, and other images such as corn plants and bows and arrows can be found. Most of the images are clustered in what are referred to as "panels," on the lower cliff faces of the canyon (BLM Brochure).
Land Owner:
Bureau of Land Management
Site Elevation:
6243 ft / 1903 m
Hiking Difficulty:
Main Panel & Big Warrior Petroglyphs
Easy =
Someone in fair hiking condition;
Distance about 200 to 1,000 feet;
Elevation gain less than 20 feet.

44 Petroglyphs
Moderate =
Someone in good hiking condition;
Distance about 1 mile;
Elevation gain about 50 feet.

Pueblito
Difficult =
Someone in excellent hiking condition;
Distance less than 1/2 mile;
Elevation gain greater than 100 feet, requires scaling a talus slope.
References:
Bureau of Land Management
Defensive Sites of Dinetah Brochure. Farmington Field Office, Farmington, New Mexico. Publication date unknown.
Powers, Margaret A. and Byron P. Johnson 1987
Defensive Sites of Dinetah. New Mexico Bureau of Land Management Cultural Resources Series No. 2, 1987. U.S. Dept of the Interior, Bureau of Land Management, Albuquerque District.
Towner, Ronald H. 1997
The Dendrochronology of the Navajo Pueblitos of Dinetah, PhD dissertation, University of Arizona.
Shaft House Pueblito
: If you make the trek to the 44 Petroglyphs and have an additional two (2) hours, take the hike to
Shaft House Pueblito
which is further up the canyon to the north. Word of caution, to reach Shaft House requires an additional 1 mile trek and hike up a talus slope with an elevation difference of almost 400 feet. Best to be in good shape, have a map or GPS file on your device, and additional water. The talus trail is sporatically marked with rock cairns.
Other Pueblitos
➠ Crow Canyon Pueblito and Petroglyphs
State Land Permit Required:
Share this page
Report Vandalism
Report any vandalism to the Bureau of Land Management hot line at (505) 564-7600.
For in progress incidents, request a BLM Ranger through Non-Emergency Dispatch (505) 334-6622.